Best Way to Make Best Actress "Not There"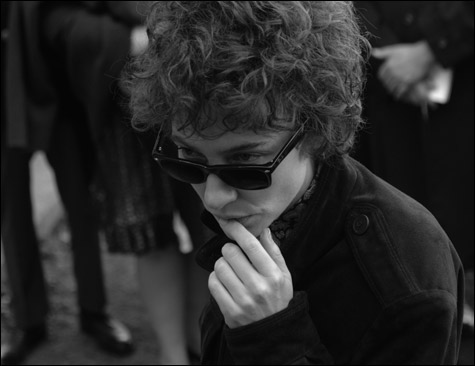 Every year the Academy changes up the Oscars to try and make better, faster, stronger. It's the Six Million Dollar Man of television really.
Usually one of those tactics is to just drown out the nobodies when they are giving their speeches so that they are forced to stop thanking their dog and leave the stage.
This year, thanks to the writer's strike, they didn't have to do much of that… apparently thank you speeches are also written by Hollywood writers, and not many of them got time to work on them because the speeches were short and sweet.
The exception was Best Song co-winner Marketa Irglova who was completely drowned out after her partner finished his speech. The ever-fair and balanced host Jon Stewart, in the moment of the evening, brought Irglova back to the stage after the commercial and let her give her speech, which was inspiring and eloquent. The Best Song winners (and stars of the captivating busker-love film Once captured a real moment of truth and creativity in an otherwise bland Oscar evening.
The shock of the evening went to glorious Best Supporting Actress winner Tilda Swinton who certainly earned the award, but was up against Cate Blanchett's disappearing act as Bob Dylan in I'm Not There, Amy Ryan's acclaimed turn in Gone Baby Gone and the short-but-sweet goodness of Ruby Dee in American Gangster. Neither Swinton nor Saoirse Ronan were considered front runners, and it showed when Swinton's name was called.
Other non-highlights:
In a bafflingly misogynistic move, Best Actress Award was buried in the middle of the show, even though it was, along with the Best Supporting Actress award, the most hotly contested awards of the evening. Additionally, Jessica Alba was paraded out on stage in her bumped-out-cuteness to tell everyone about the Science and Technical awards that she hosted on another night. I hope next year they ask the equally pregnant Julian Schnabel to host those.
For Best Actress, Marion Cotillard took the statue home in her performance as singer Edith Piaf, but was in a dead heat with the slim favorite Julie Christie, and with Juno's beloved Ellen Page a distinct possibility and the long-overlooked Laura Linney definitely in the running for The Savages.
Note: We were kept on pins and needles for the "surprise" second win for Daniel Day-Lewis as Best Actor at the end, for this? Not that he doesn't deserve it, but Oscar should really consider what would make a better show — if they are bent on reordering the awards, why not be willing to move the Best Actress nearer the end, when that award is more of a surprise than the Best Actor Shoo-in?