Pumpkin Carving Party– Here!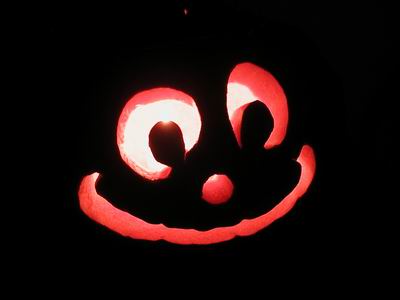 Colin and I are carving our pumpkins tonight on Hilltop. I bought them from the little farm around the corner from us. They didn't grow them there (their crop got whacked by the hailstorm in August too), but got them from Hamden up the road.
I am going through all the motions of my favorite favorite favorite season, but it isn't all that fun this year. Usually I'd host a big pumpkin carving bash and have friends over to hang out on the porch, pass sharp objects around and see who has got the most talent. The winner is usually JD. This year I am generally friendless, still, and I guess it is still my fault. I think I might be giving up on trying to make friends anymore. I have so many good ones already– in London, in D.C., in Kansas City, in Iowa, San Diego, Sunnyvale, Wisconsin, Florida, Minnesota, New York– even a few in Spain, Singapore and one in Sydney. I am getting exhausted from the effort of dreaming about them, missing them, and the prospect of starting over when I may someday have to leave another one behind.
So it's Colin and I, carving pumpkins by ourselves in our kitchen, hoping for a family Halloween next year, and friends to arrive to visit when they can.